Learn More About Recurring Orders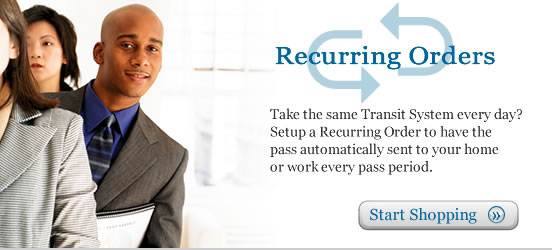 Recurring orders are automatically renewed each calendar month, and shipped to arrive a few days before the beginning of the month. Recurring orders can easily be suspended for one or more months, or cancelled, when your transit needs change.
Ordering: To create a Recurring Order, click on Recurring Orders and select your transit system.

Select your product from the transit system order form.
Choose desired product quantity.
Select the starting month for your order.
Select Start and Destination points, if applicable.
Select Shipping Method.
Select Payment Options.
Click the "Create Recurring Order" button
Repeat this process to create recurring orders for additional products
Once your recurring orders are created, you can edit, suspend, or cancel them from the Recurring Orders section located under Manage Account.

Accounts: All purchases on MTA.CommuterDirect.com® require an account. If you already have an account with us, please log in using the form at the top of the page. If you do not have an account with us, please setup an account so you can have access to all the great features available to MTA.CommuterDirect.com® customers.
SmartBenefits and Employer Debit/Credit Cards: You are able to pay for your purchase using SmartBenefits or Employer Debit/Credit Cards if your employer provides these transit benefits and you are registered for them. You must have a personal credit card saved in your account to secure a SmartBenefits promise.
Shipping Information: Please note there is a shipping charge on every MTA.CommuterDirect.com® order each time an order is shipped. The shipping charge, however, will be waived on MARC, MTA Commuter Bus, or VRE orders shipped under the US First-Class Mail option. Recurring orders are processed and shipped before the pass period begins, you can expect delivery of your order a few days prior to the beginning of the pass period. For more information about our shipping policies, rates, and carriers please visit our .
One-time Orders for December Tickets: Because recurring orders are processed before the 20th of each month, you must place a one-time order for a month's pass if you need it after the 20th of the preceding month.